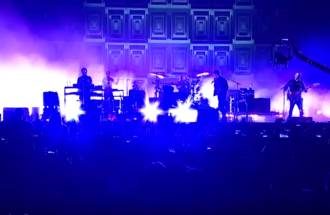 In one week Americans will celebrate their 242nd "Independence Day" and just 10 days later, July 14, France celebrates "Bastille Day," their version of our July 4th, the day that ushered in the 1799 French Revolution.
Inspired by that same French holiday, although they are actually British, this 4-man band is making waves in the Alternative and Adult Alt music scene.
They've got a new album planned for a 2018 release, and this is the first single, "A Quarter Past Midnight," already Top 10 on the Alternative radio airplay chart.
You can hear in the song and see in the video why this song is on the "Alternative" chart and not on Pop or Top 40 radio stations. It's kind of druggy-psychedelic, a bit surreal, with "artsy" visuals and abstract, interesting lyrics, plus the band is tight, and the song rocks.
Bastille is not just "some band."
Their first album, "Bad Blood," (2013) entered the UK Album Chart at #1. In 2014 they were nominated for four Brit Awards. In the U. S. they've sold millions of records, with many more millions of fans.
Bastille reminds us of Genesis's lead singer Peter Gabriel's 1987 Top 10 classic "Big Time." We hear a similar texture, sound and chorus of hooks between these two hyper-stylized presentations, each capturing their moment in time.
BoomerMusicUpdate readers got a heads-up about Bastille in 2016 when we gave a shout out to the group's Top 5 alternative hit "Good Grief." https://boomermusicupdate.com/top-40/bastille-nod-queen-david-bowie-plus-killer-open/